Many many people have had their lives changed and in upheaval due to Hurricanes Katrina and Rita of 2005. Here are two stories of how people have handled it. We hope their stories will encourage you. If you have a story to share, please let us know at: Contact
Hurricane Katrina hurricane Rita
Hello, our names are Jean and Kendall, and our home got struck down by Hurricane Katrina in August of 2005. Here are snippets of our history of how we got through it so far.
We had been living in Gautier, Mississippi. It is the coastal region along the West Pascagoula River, almost at the delta, and at the Mississippi Sound along the Gulf of Mexico. It is situated between New Orleans, Louisiana and Mobile Alabama.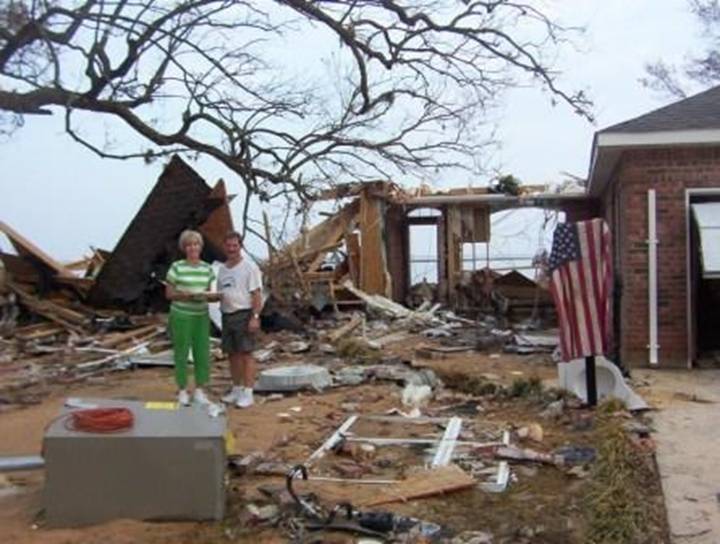 #1
Name: Kendall & Jean
Title: Gautier, MS
Date: Thursday, October 06, 2005
Time: 06:20:34 PM
Great seeing y'all again. Congratulations on your 20th anniversary!! We are looking forward to the next phase in our adventure. Let us know your email address, and we'll send you a couple "hurricane photos."
#2
From: Kendall & Jean
Sent: Monday, November 07, 2005 12:35 PM
Subject: Katrina Pix
We're back in Mississippi, living with friends in Ocean Springs and awaiting a trailer from FEMA to put on our property. - love to move back to Annapolis/Baltimore area if there's a job opening up there.
Kendall & Jean
#3
From: Kendall & Jean
Sent: Monday, November 07, 2005 2:08 PM
Subject: Photo Attached
The photo is attached. We could use your continued prayers for decisions on where to live/work and emotional recovery. Thanks.
#A
From: Kendall Miller
Sent: Saturday, April 01, 2006 6:49 PM
Subject: Easter Pine Trees?
This is worth your time! Did you know this about the pine tree? It is almost Easter and I thought you might enjoy this web site this time of the year. http://wandascountryhome.com/pinetrees/
#4
From: Kendall & Jean
Sent: Saturday, April 15, 2006 10:26 AM
Subject: Moving to Annapolis
Dear Friends and Family,
For those of you who haven't already gotten the word, we wanted to let you all know quickly (via mass email). I've accepted a job transfer to Annapolis, working for my same company, and we expect to be moving there in the next few weeks. We are thrilled to be moving and can't wait to see what God has in store for us there.
The aftermath of Katrina here on the Gulf Coast has been a long season of learning, and we've grown tremendously through the experience. We have been living with generous friends in Ocean Springs since October. In November we had the foundation of our former home broken up and removed, thinking we might rebuild. In December, we recognized that it's too hard to get anything going, and it will be a long time before this area recovers, so I began looking for a new job in the MD/VA area.
We give God all the glory and praise for bringing us to where we are today. What a great God He is. We'll keep you posted of our whereabouts. And meantime, we'll have the same email and phone if you want to reach us.
The attached interview with Rick Warren was especially meaningful to us... Have a blessed Easter.
Kendall & Jean

#B
From: Kendall & Jean
Sent: Tuesday, April 18, 2006 12:41 PM
Subject: RE: Moving to Annapolis
Thank you so much for offering your home for us to stay. But the company has provided a place for us, for up to two months while we house hunt. I do plan to do study the Book of Romans in the Bible starting in September. We are so excited. God is Good.
Love, Jean
#5
From: Kendall & Jean
Sent: Sunday, May 07, 2006 8:31 PM
Subject: The Saga continues
Hello Again Dear Friends and Family,
This is a short note to let you know that we have arrived in Annapolis. YEA!! We've moved into an efficiency apartment, where we should be until July. Kendall's new job begins on Monday . . . And no, we haven't found a house yet... but we'll keep you posted.
Some of you have asked if there is anything you could do for us, so here's our request. The people we stayed with after Katrina destroyed our home they bent over backwards to make us feel welcome. We stayed in their guest bedroom for the past 7 months! They have had their own issues to deal with (including storm damage repairs and health matters) in addition to dealing with our problems. We can't think of a better way to thank them, than to ask you to send them a note or card of encouragement/gratitude. We know they would appreciate it. Here is their address…
Thanks again, and may God richly bless you for all you've done.
Kendall & Jean Miller
~~~~~~~~~~~~~~~~~~~~
From Kristy W.
Thanks again for offering me the chance to share how God has challenged and comforted me through joy and pain this past year. His healing is constant and sure, and my family and I rest in the knowledge of His presence in the midst of our frailties. I will be traveling to areas in Mississippi and Louisiana for seven weeks this summer to help both my family and community and others ravaged by Katrina. I feel it is still a work in progress as physical and emotional healing continues. I await the miraculous ways I already know God will work in the next few months. Kristy W.